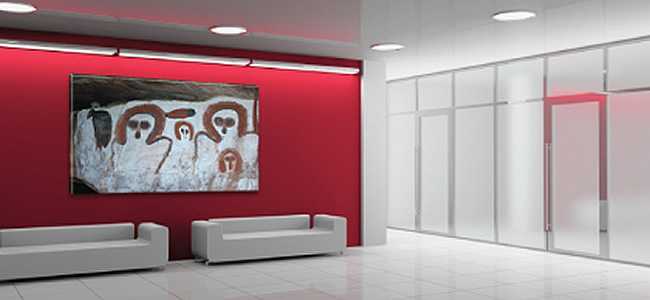 As humans, we strive to set ourselves apart from others to establish our identity. In the business world this is no different. Products are made and marketed on their unique selling points. Brands are tested on the strength of their brand identity. A business is always on the lookout for ways to define and express itself. Adding artwork to a business is a great way to achieve this.
There are many benefits of office wall art, but artwork hire has one very important feature. Corporate artwork is one of a kind. Office Artwork Hire collects works from local Australian talent. We're supporting local artists and making sure that every piece is unique.
These works can turn bland walls into opportunities. The surface of a wall is rarely used, why not put that space to work? Adding artwork can define a customer or client facing space. You can set a mood or energy that is helpful to your business needs. This is one of the greatest benefits of office wall art.
Reds and yellows in tandem are known to create feelings of hunger. Now imagine a restaurant, setting the table for the perfect dining experience. A botanical artwork interior theme would suit. For example, banksias in both red and yellow varieties. On the other hand, blue is known to have calming, serene properties. It's no accident that a standard dentistry features blue in its interior, corporate artwork, or both. Visiting the dentist continues to be an unpleasant prospect for many. The benefits of office wall art don't just elevate positive scenarios. Adding artwork can also relax any anxieties or fears clients might have.
Artwork hire improves more than just the client experience. Employees benefit too. Canvas art hire is well suited to employee spaces. Based on original photographs taken by TPR Group, Office Artwork Hire provides high quality prints for canvas art hire. Colour schemes are still important to consider, and similar rules apply.
Orange can energise and invigorate. For fast-paced office environments, an image featuring the right tones of orange will work wonders for team mentality. Alternatively, an arctic landscape canvas has varying tones of light and dark blue. This work could be mounted in a meeting room to keep the team calm and focused during decision making.
Their photographic detail allows images to engage day in, day out, without becoming stale or tired. Whatever interior artwork strategy you choose to implement will be assisted greatly by the employee's natural interest in the art. They will discover new details in the art over time. And just like our botanical art, our canvas art hire uses artworks produced and made in Australia.
There is a great variety of images to choose from. Office Artwork Hire includes marine, arctic and outback landscapes, and subjects such as plants, wildlife, or architecture. There is a palette and subject to suit any themed artwork interior.
In other words, the benefits of office wall art extend to both clients and employees. Corporate artwork hire can produce a wide range of emotional effects. Choose the effect you want to bring to your space, then consider how to achieve that effect. Finally, you can begin settling on a specific artwork. It's a thought intensive process, but well worth the effort.