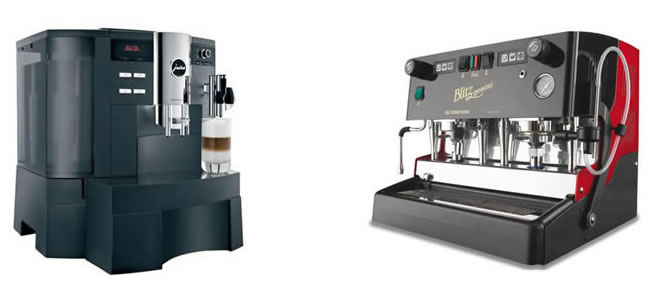 Aarons Coffee at Work offers a range of high end machines for coffee machine hire. Unfortunately settling on a specific model is easier said than done. This comprehensive guide to our espresso coffee machines will help you pick the perfect model for your office or hospitality business.
Jura XS9 Classic
The Jura XS9 Classic caters for an office of up to 80 staff, with a solid output of 30 to 200 cups a week. The XS9 Classic might be a misnomer; it's actually an updated version of the XS90 One Touch. The biggest improvement for hospitality business and office owners? A leaner price tag.
This machine produces twelve different bean to cup coffee products, including old favourites like cappuccino plus popular new drinks like latte macchiato. The new XS9 also features a new milk foam frother, for creamier, smoother milk foam.
The XS9 Classic minimises noise from grinding beans. It's a part of the café experience we don't want to bring to the team. The Energy Save Mode (E.S.M.©) feature lessens energy consumption in down-time by up to 40%. The power bill is often a dangerous hidden expense in running an office. Savings passed on by the XS9 Classic make it shine in coffee machine hire.
An active bean monitoring system alerts staff to a low grinder. In the hustle and bustle of any office it can be easy to forget to top up. Finally, programmable coffee strength and brew temperature allow the fussiest coffee drinkers to fine tune their beverage. The XS9 Classic is renowned among office coffee machines for being feature-rich, yet cost efficient.
Blitz Gemini 520 Pro
The Blitz Gemini 520 Pro is one of the most visually impressive commercial coffee machines. It adds a sense of barista authenticity and style to any business- great for impressing customers. Unlike the XS9 Classic, it sources its coffee from coffee pods.
Pods are individually sealed single serves of freshly ground coffee. Pods reduce mess and eliminate grinding noise entirely. Aarons Coffee at Work provides our own range of quality coffee pods, decaf included. There are options and extras for all your bean to cup coffee needs. We recommend trying out our Platinum Blend- a secret seven bean Arabica mix sourced from around the globe.
This machine defines durability. Expect well over 200 cups a week with no drop in quality. The steel plate and forged brass exterior is built to last. The machine can also be plumbed for water supply and drip tray drainage. Business owners looking for a long term instalment can shortlist the Blitz Gemini 520 Pro for their coffee machine rental. It's especially suited to restaurants and cafés, or bosses looking to spoil their team and clients.
In this post we've covered just a couple of the models available for coffee machine hire at Aarons Coffee at Work. Every business has different needs, and coffee machine hire often carries a surprisingly difficult decision with it. Rest assured, part two of this guide is coming soon.