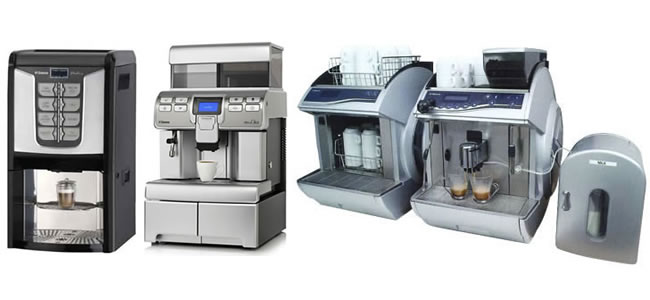 In part two of this guide, we looked at the Blitz Gemini 510 and Saeco Royal Cappuccino. In this last part of our guide to Coffee Machine Hire, we'll cover three more popular models from Saeco.
Saeco Phedra
The Phedra is a hot drinks vending machine. It features up to 14 hot beverages. Programmable buttons, clear button text and a useful LCD display make the Phedra very user friendly. In addition to coffee, the Phedra can also deliver chai tea, hot chocolate, and even soup. There are two types of Phedra available for coffee machine hire. One of these espresso coffee machines uses fresh milk, and the other uses powder milk- the Regilait. It should also be noted that both Phedra types have different dimensions. The fresh milk version is 5mm wider and 115mm taller than its Regilait cousin. Each Phedra is configured for coin payment. Though, the Regilait version accepts both coin and card for convenience. They can also both be plumbed for water supply and drip tray drainage. Both versions of the Phedra will output over 200 cups a week. But if your business is especially large, the Phedra even has a memory key. The memory key stores and copies Phedra settings between multiple machines. Simple yet versatile, this model adapts well to multiple coffee machine rental.
Saeco Aulika
The Aulika is fully automatic, and can produce up to eighty bean to cup coffee drinks per hour. This impressive rate makes it a workhorse among commercial coffee machines. It was made for large offices. A one touch system combines both coffee and milk into the same pouring group, speeding up the pouring process. It is also one of the smaller espresso coffee machines, meaning the staff kitchen need not feel cluttered. Its stainless steel panels don't just look great, they also allow for ease of cleaning. The Aulika even instructs users on when and how cleaning should be carried out. The Aulika can make five different drinks, including cappuccino, latte, and espresso. Like the Phedra and all good office coffee machines, the Aulika frontlines user friendliness. It features a clear LCD display and keypad for ease of use.
Saeco Idea Cappuccino
The Saeco Idea Cappuccino is great for both larger offices and small cafes. It boasts an output of over 150 bean to cup drinks a day. An internal cappuccinatore takes fresh milk from either a milk bottle or an additional milk chilling fridge. Not only that, but a steam wand allows a professional barista to showcase their skills in a café environment. It also comes with the features typical of office coffee machines. It has programmable one touch buttons for simple use. It uses dual pumps and boilers, so the machine can perform two functions at any one time. But those extra café qualities make this a versatile choice for coffee machine hire.
That wraps up our guide on coffee machine hire. Whether your business is small or large, office or hospitality, or maybe something else entirely- Aarons Coffee at Work has a model for your needs.