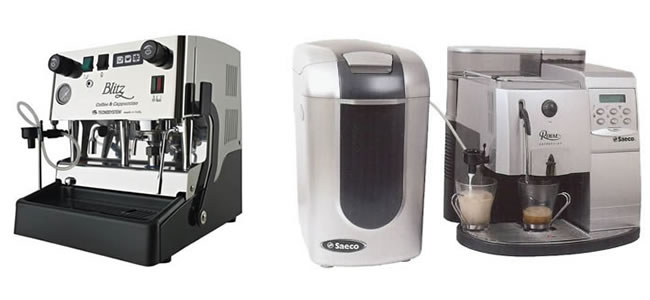 Last week we had a look at two all-star commercial coffee machines. The Jura XS9 Classic and Blitz Gemini 520 Pro have excelled in coffee machine hire. But these two models can't account for all businesses. Luckily, Aarons Coffee at Work provides more models for coffee machine rental. Part two of our guide will introduce the Blitz Gemini 510 and the Saeco Royal Cappuccino.
Blitz Gemini 510
It's hard to talk about the Blitz Gemini 510 without talking about its big brother. The 510 is smaller than the Blitz Gemini 520 Pro. It also has a lower coffee output. But its small form has made it popular with small restaurant and café owners. If we compare the two espresso coffee machines we find that the 510 isn't strictly smaller. The 510 measures 320 mm wide, 410 mm deep, and 400 mm high. Meanwhile the 520 Pro measures 450 mm wide, 410 mm deep, and 390 mm high. There is still enough size difference for space savvy café owners to check out the 510 for coffee machine hire.
Just like the 520 Pro, the 510 is a pod machine. Pods are individually sealed for easy brewing and cleaning. A pod based commercial coffee machine is great when smooth workflow is a priority. And just like the 520 Pro, the 510 has a strong sense of style. The modern exterior matches the 520 Pro. Durable and stylish, it is sure to survive constant use and catch eyes.
Although the 510 is a lighter 520 Pro, its bean to cup coffee output is still quite high. Users can expect over 200 servings a week. The 510 features two separate boilers. One boils the espresso. The other delivers consistent steam. The 510 also has the automatic milk frothers of the 520 Pro. Cappuccinos and latte fans will love this machine.
Saeco Royal Cappuccino
The Saeco Royal Cappuccino is the forerunner of office coffee machines. Saeco made the first Royal Cappuccino over a decade ago. The model became a top seller. This model has since been updated over time. Today's Royal Cappuccino features an LCD display. The display tells users what the machine is doing at all times. Drinks are made with pre-programmed beverage buttons. Together, these features make the Royal Cappuccino one of the easiest office coffee machines to use.
Another hallmark of the Saeco brand is the manufacture of their espresso coffee machines. Saeco prides itself on commercial coffee machines made in Italy. This ensures a high standard of quality and reliability. When choosing commercial coffee machines for coffee machine hire, it's best to choose a model that will last.
The Royal Cappuccino has its own tricks to ensure great coffee. Its milk frothing system can be tweaked to produce thicker or thinner froth. This is done by adjusting a pin on the machine, allowing more or less air into the system. A simple device, it grants the Royal Cappuccino a bit of flexibility. It will suit a staff of up to 80 members, making up to 200 beverages a week. As far as office coffee machines go, its ease of use and small size make it ideal for small to medium sized offices.
In part three of our guide to coffee machine hire we'll continue to look at more espresso coffee machines produced by Saeco.